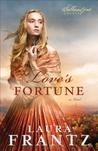 Love's Fortune by Laura Frantz
My rating: 5 of 5 stars
She has a way with a story, does Ms. Frantz. Love's Fortune doesn't disappoint. This is the third in a series and I haven't read the first two, but it reads just fine as a stand alone story. (Although I
will
be purchasing those first two books - soon!)
Wren Ballantyne grew up in rustic, pre-Civil War Kentucky. After her mother's death and mourning period, Wren and her father move to Pennsylvania with his relatives. His very wealthy relatives. Wren finds herself thrust into a world and a life she never wanted.
James Sackett may be Silas Ballantyne's right-hand man, and the best river captain of the Ballantyne fleet, but he has no business falling in love with his boss's granddaughter... and he knows it. Not only was he not born to nobility, he has a price on his head.
The characters are deep, believable, and soon become the reader's friends. Struggles, twists, villains, danger, love... plenty to keep the pages turning. I highly recommend this book!
This is the third book I've read by Laura Frantz and this is the third one I've given 5 stars. Here are my reviews of
The Colonel's Lady
and
Courting Marrow Little
.